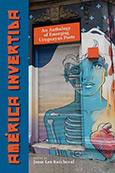 América invertida: An Anthology of Younger Uruguayan Poets



Edited by Jesse Lee Kercheval, to be published by the University of New Mexico Press, August 2016

This bilingual anthology includes 23 Uruguayan poets under 40, each matched with an American poet/translator. The Uruguayan poets are Luis Miguel Avero, Martin Barea Mattos, Horacio Carvallo, Martin Cerisola, Laura Cesarco Eglin, Andrea Durlacher, Javier Etchevarren, Victoria Estol, Paola Gallo, El Hoski, Leonardo Lesci, Agustín Lucas, Elisa Mastromatteo, Alex Piperno, Alicia Preza, Sebastián Rivero, Fabian Severo, Paula Simonetti, Francisco Tomisch, and Karen Wild. The translators are Don Bogan, Geoffrey Brock, Jona Colson, Keith Ekiss, Adam Giannelli, Kevin A. González, Catherine Jagoe, Julia Leverone, Seth Michelson, Lauren Shapiro, Ron Salutsky, Christopher Schafenacker, Mark Statman, and Jesse Lee Kercheval. Poems and translations from the anthology or additional poems by the poets in the anthology have appeared in the Notre Dame Review, Prairie Schooner, the Colorado Quarterly, Copper Nickel, Asymptote, Words without Borders, and Palabras errantes.