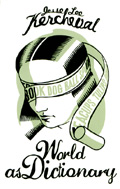 World as Dictionary




Published in 1999 by Carnegie Mellon University Press (ISBN 0887482856).

"From the powerful and unforgettable opening sequence which recounts, with passionate intensity and uncompromising honesty, the death of a dear friend from cancer; through the wonderful middle poems on the complex pleasures of marriage, motherhood, and family life; to the final meditations on the poet's own intractable childhood; World as Dictionary explores the vagaries of love, loss, desire, and will. At times heartbreaking and elegiac, mourning a 'universe that is racing from us / at the speed of light / and … is never coming back,' Kercheval is also unswervingly affirmative, celebrating with her infant daughter (whose word for 'open' expands her world), 'Ope, ope, ope … we live in hope. / My daughter claps her hands.' Fierce, intimate, lyrical, profound, and true,

World as Dictionary

is a beautiful, beautiful book. A book that lives in hope. A book that claps its hands."
—Ron Wallace

Reviews can be found here, and the book can be purchased here.