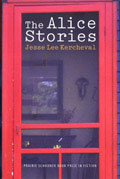 The Alice Stories


Published in 2007 by the University of Nebraska Press (ISBN 9780803211353).

Wisconsin is not where Alice, a girl raised in Florida, meant to end up. But when she falls in love with Anders Dahl, the son of Norwegian farmers born for generations in the same stone farmhouse, she realizes that to love Anders is to settle into a life in Wisconsin in the small house they buy before their daughter, Maude, is born. Together, Alice and Anders move forward into a life of family, friends, and the occasional troubled student until they face their biggest challenge.

Winner of the 2007 Prairie Schooner Book Prize in Fiction, Jesse Lee Kercheval's The Alice Stories tells the tale of a family: the pain of loss and the importance of the love of friends in the midst of turmoil. As timely as the news, yet informed by rich humor and a deep understanding of human character, the interlinked Alice Stories form a luminous tale of family life.

"By turns hilarious and devastating, The Alice Stories form a tender and poetic chronicle of one woman's journey through time, love, motherhood, and Wisconsin. It is a marvelous example of how connected stories can, even more effectively than a novel, evoke a life in all its ranging, episodic, and emotional complexity."
—Anthony Doerr

More reviews can be found here. The Alice Stories can be purchased here.