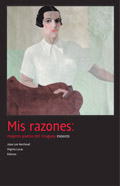 Mis Razones: mujeres poetas del Uruguay



(Spanish only)

An anthology of twenty-four essays by twenty-one Uruguayan women poets of the 19th and 20th centuries on writing, writers, and literature, mostly concerning Uruguayan poetry but also including essays on Shakespeare and Rilke.

Compilado por Jesse Lee Kercheval y Virginia Lucas y publicado por la Biblioteca Nacional de Uruguay, 2019, (ISBN 9789974726116).

Cuenta con la introducción de Maria Rosa Olivera-Williams e incluye ensayos de Cristina Peri Rossi, Maria Eugenia Vaz Ferreira, Susana Soca, Luisa Luisi, Juana de Ibarbourou, Silvia Guerra, Tatiana Oroño, Marosa di Giorgio, Circe Maia, Delmira Agustini, Laura Cesarco Eglin, Paola Gallo, Idea Vilariño, Mariella Nigro, Esther de Cáceres, Clara Silva, Martha Canfield, Amanda Berenguer y Sara de Ibáñez.